Comfort Feeding Fence with electrical lock and release
Ausgezeichnet mit der Silbermedaille der Eurotier 2018!
Als weltweite Leitmesse für Tierhaltungs-Profis hat sich die EuroTier als wichtigste Plattform für die Präsentation von Neuheiten etabliert. Mit der Verleihung des Innovation Awards wird diese Innovationsführerschaft unterstrichen. Der Neuheiten-Preis wird im zweijährigen Turnus anlässlich der EuroTier vergeben. 
Eine von der DLG (Deutsche Landwirtschafts-Gesellschaft) eingesetzte neutrale Expertenkommission hat aus den 250 zugelassenen Neuheiten-Anmeldungen nach strengen Kriterien die Gewinner des Neuheitenwettbewerbs ermittelt.
Mit dem Gewinn einer Silbermedaille hat unser Komfort-Selbstfangitter nicht nur unsere Kunden sondern auch die Experten der DLG von seinen Vorteilen überzeugt.
100% silent - safe - comfort function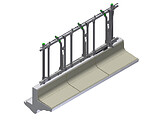 Our patented and unique Bräuer Comfort feeding fence is not only built to last but also is 100% silent in operation and it`s  function can be fully automated as the locking mechanism can be driven by an optional electric linear drive.
No matter how busy you are, never forget releasing your animals on time anymore.
Die sich bewegende Halterung für das Schwenkrohr schafft viel Platz für die Tiere im Halsbereich und verhindert zuverlässig ein Einklemmen der Tiere. 
Die obere Verriegelung des Gitters erfolgt automatisch.
Absolut lautlos im Betrieb
Bedienung von jedem Ort im Stall aus über bequemen Schlüsselschalter.
Selbstverständlich erfüllt das Bräuer Komfort-SFG alle Ansprüche des Tierschutzes ! 
Prüfnummer: 2016-03-016
Siehe: www.tierschutzkonform.at
Komfort-SFG im Betrieb
Komfort-SFG in geöffneter Position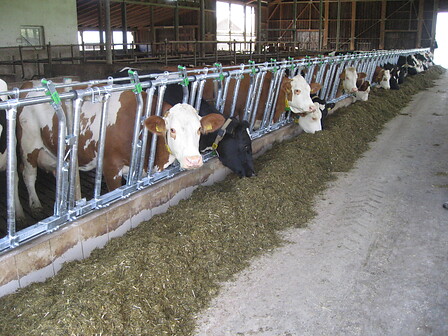 Das prämierte Komfort-SFG gibt es nun auch für Kälber!
Kälber müssen den Umgang mit dem Fressgitter erst lernen, Unfälle durch Ausrutschen am Gitter oder Verletzungen durch Panik sind daher leider unvermeidbar.
Nicht mehr mit unserem neu entwickeltem Komfort-SFG für Kälber welches alle Vorteile unseres mit einer Silbermedaille ausgezeichneten Fressgitters für Milchvieh bietet, aber in einer den Kälbern optimal angepassten Bauform.
Die Tiere verlieren während der Umstellphase von Milch zu Raufutter ihre Scheu vor dem Fressgitter wesentlich schneller als mit anderen Fressgittern.