Ventilation technology for pigs
More than one step ahead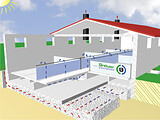 AIR TO GROUND COOLING SYSTEM
Our patented air to ground cooling system cools the air flowing into the stable in summer.
In winter the air is pre-heated which lowers energy costs for the stable.
Longevity, minimum maintenance and better animal growth at low costs.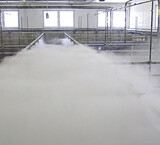 AIR INFLOW BY GROUND SLATS
In combination with our air to ground cooling system the most efficient way to supply fresh air.
For piglets additional heating elements can be installed below the slat panels, out of reach of animals and within fresh air which drastically reduces maintenance.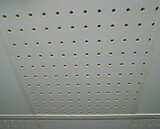 INSULATED CEILING FOR VENTILATION
Easy to clean polystyrene panels, on both sides covered with UV-resistant PVC sheets.
Hartmann Biofilter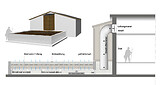 BIOFILTER FOR SPENT AIR
No chemicals
Self-cleaning with microbiological active ingredients
Minimal investment, operating and total costs
Minimal service and care effort
Has been proven effective for 10 years in fault-free continuous operation
Microfan climate computers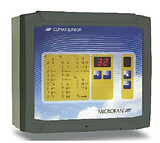 DYNAMIC AIR - VENTILATION SYSTEM WITH FREQUENCY CONTROL & MEASUREMENT FAN

The DYNAMIC AIR system has been especially developed with the goal of achieving even ventilation with minimal energy use (power and heating costs). Characteristic of the Dynamic Air system is the low energy consumption and the very high adjustment precision.
External influences (chimney effect with minimum ventilation, wind pressure at the chimney etc.) no longer have an effect on the set exhaust air rates. If it becomes necessary due to certain effects, e.g. if there is no ventilation due to the chimney effect, the van automatically changes its direction of motion.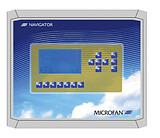 CLIMATE COMPUTERS

Our climate computers are state of the art in the area of climate control and monitoring for animal housing. All climate computers are user-friendly way with an easy-to-follow display. Individual needs in terms of barns can be met with the wide selection of different types available.
For a small selection of available devices see below: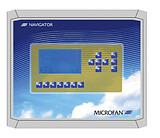 NAVIGATOR
Central computer for up to 19 compartments.
Control of multiple central exhausts, heating, evaporative cooling, programmable clocks, air-flow measurement and many more functions.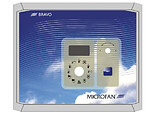 BRAVO

Small computer, many possibilities. Direct control of attached fans, control of frequency controlled exhausts, heating and cooling.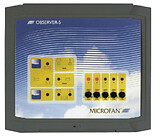 OBSERVER-5S
Alarm system with integrated battery, 5 available inputs which can be switched off, sirens or telephone dialers can be connected.